Welcome to our News and Happenings page! We add updates whenever we have a new or unusual farm story to share (although we're farmers, and more often than not it's the same old, same old...!)

September 2015

Sorry, we don't seem to be updating this page very regularly, do we?!? We've taken to using facebook for our day-to-day updates. Please take a look! We regularly post delicious new recipe ideas, pictures and videos of animals and their daily activities, meat specials, etc.

Facebook page




January 2015

4th Annual Farm Open House date has been set! Mark your calender for Saturday, May 9th, 9 a.m. to noon. Join us for a fun-filled morning of farm and pasture tours, baby chicks to hold, and lots of yummy snacks. No admission fee! Our farm store will be open for meat purchases during this time.


September 2014

What an amazing evening we had with Chef Jodi at the helm for Dinner on the Farm 2014. The sun was shining, the pigs were in top form, the music was lively. Although the evening was quite cool, we had a beautiful fire to warm ourselves by. Here are a few pictures from the evening (to see more pictures, please visit our facebook page)...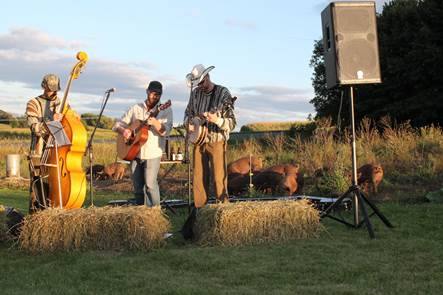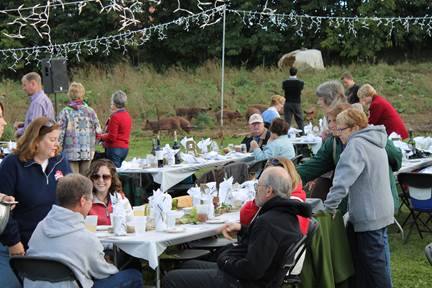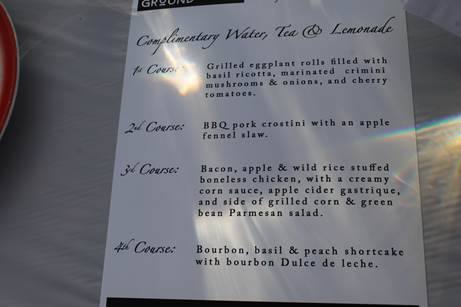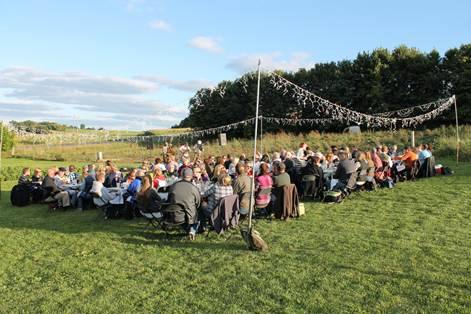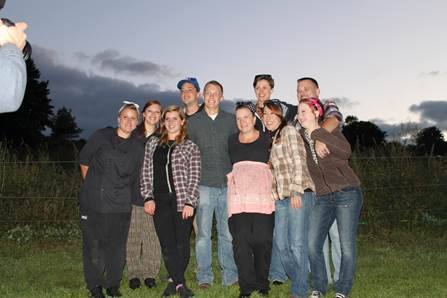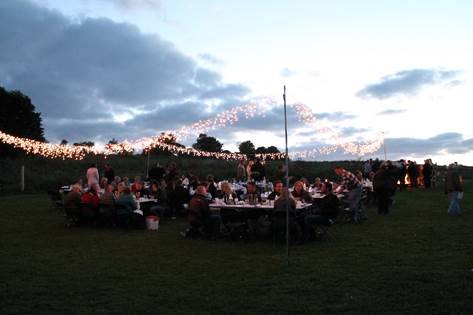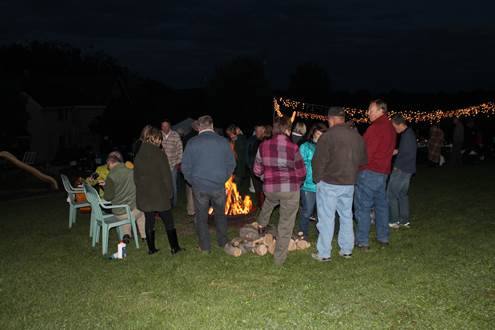 August 2014

We're only a few weeks away from Cafe Soeurette's famous annual Dinner on the Farm, right here at Dominion Valley Farm, September 13th. To reserve your spot, contact the Cafe directly at 262-338-2233. It's sure to be a night to remember! Chef Jodi will be preparing a fabulous four-course meal with all locally grown produce, using DV Farm's amazing protein as the main course, plus there will be a bluegrass band playing and an independent filmmaker documenting the evening. Don't miss it!!!


June 2014

Did you know that we can be found at a **new** farmers' market??? Visit us every Thursday from 3-7 p.m., from now until early October, at the Village of Brookfield Farmers' Market, located in the beautiful village, near the train tracks, just off of Brookfield Road.


May 2014

Another successful Farm Open House! What a wonderful morning our Dominion Valley Farm friends had!!! Please make plans to visit us next May for more tours, baby animals and snacks. Of course, we welcome visitors to the farm year-round who would like to shop at our farm store (Mondays through Saturdays). Please call ahead for an appointment.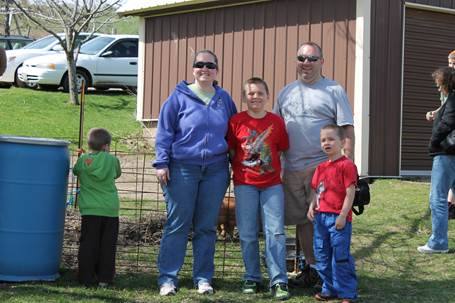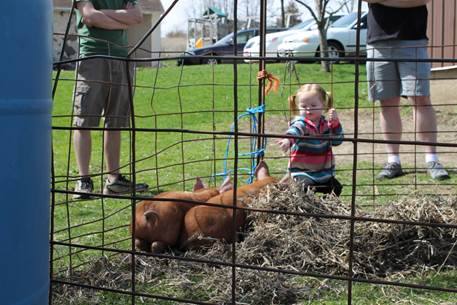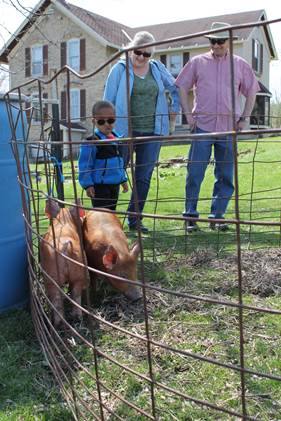 February 2014

The third annual Farm Open House date has been set!...Saturday, May 10th, 9 a.m. to noon. Bring your family and friends to the farm for a fun-filled morning of touring the pastures, seeing the animals, holding baby chicks, and sampling yummy Dominion Valley Farm snacks. There is no cost for this event. We will have our Pick-Up Joint open if you would like to peruse our freezers and stock up.


January 2014

Do you have a hard-to-shop-for someone? Give them the gift of delicious local food with a Dominion Valley Farm gift certificate! Available in any denomination you choose. Think clever: A sister-in-law is turning 32...give her a $32 gift certificate; your boss just celebrated 18 years with the company...give him an $18 gift certificate; your student needs a gift for her 4th grade teacher...give her a pack of $4 gift certifcates. The possibilities are endless!!!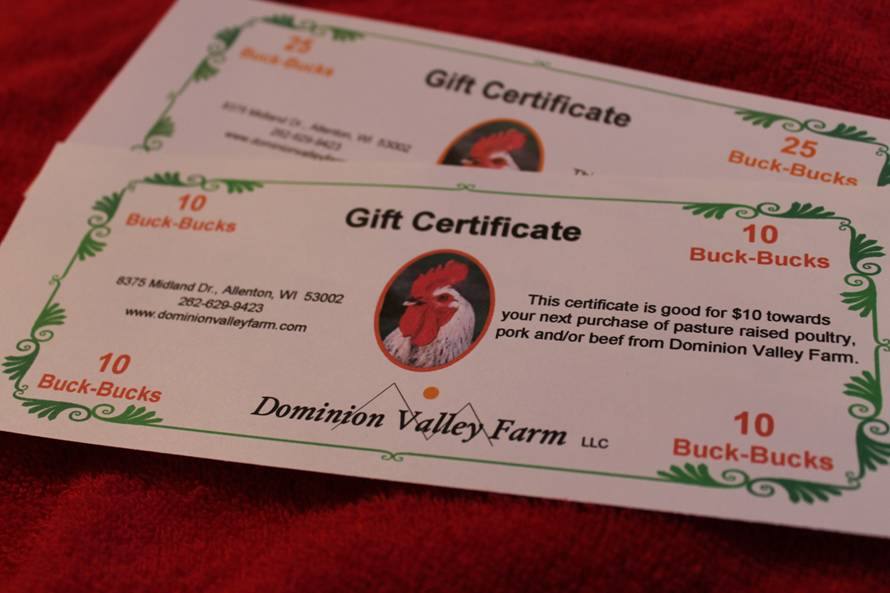 October 2013

Our Bronze Ranger chickens have been processed and are now patiently waiting in the freezers to be purchased and consumed by our customers! The Bronze Rangers are an excellent foraging bird, perfect for their life on pasture here at Dominion Valley Farm. The meat has been explained by our customers as having a very "robust" flavor. This is chicken that REALLY tastes like chicken! You can purchase this flavorful bird, either whole or cut up, at the farm and all winter (while supplies last) at the Milwaukee County Winter Farmers' Market. Please note that this market is now located at the beautiful Milwaukee Domes, where you will find us every Saturday through April, along with 30+ other amazing vendors, all under one glass-topped roof.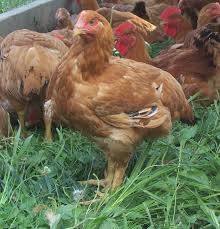 August 2013

We have now joined facebook!!! Check out our page and "like" us to keep tabs on what is going on at the farm.


July 2013

It's blazing hot days like today (97-degree heat index!!!) that we like to look upon our furry friends on their snow pasture...taken just 4 months ago!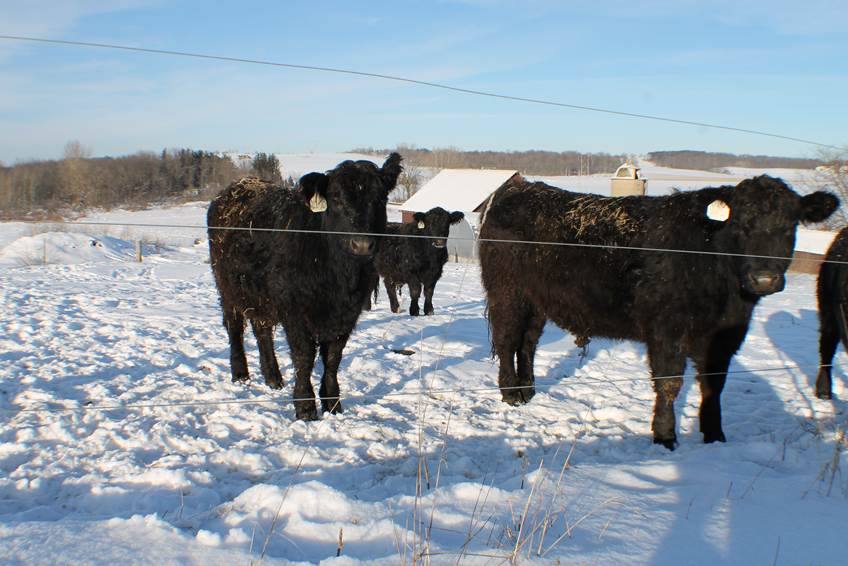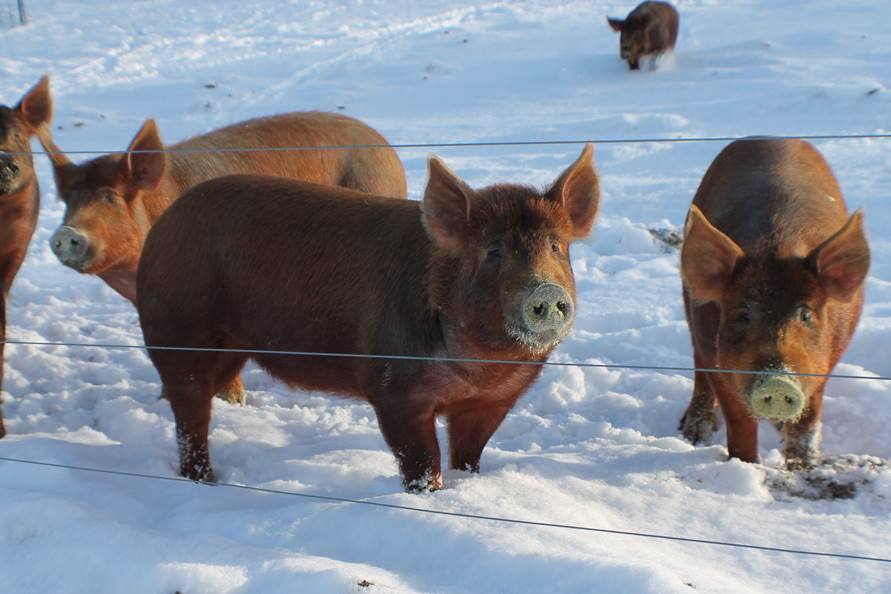 June 2013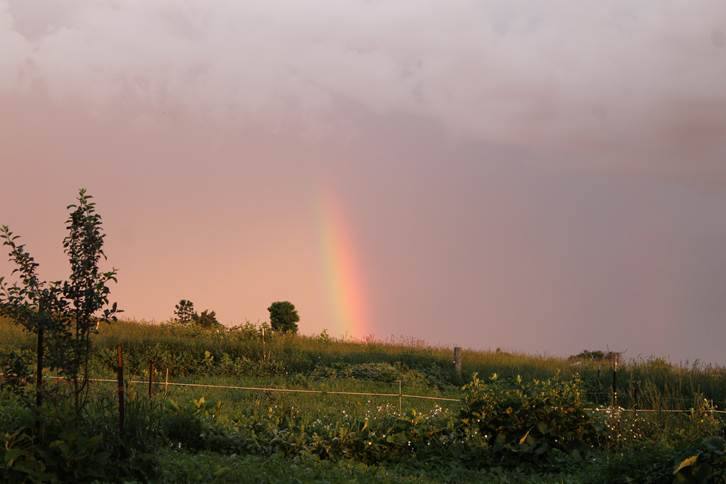 What a gorgeous picture, captured on film by Brandon!

"When the bow is in the cloud, then I will look upon it, to remember the everlasting covenant between God and every living creature of all flesh that is on the earth." Genesis 9:16


May 18, 2013

The 2nd Annual Farm Open House turned out to be on a beautiful spring morning. Our Dominion Valley Farm friends got to enjoy a farm tour, sample some yummy DVF snacks, hold a baby chick and see the other animals. Our 4 tour guides, "Farm Thang 1, 2, 3 and 4," did a great job leading our guests around the pastures.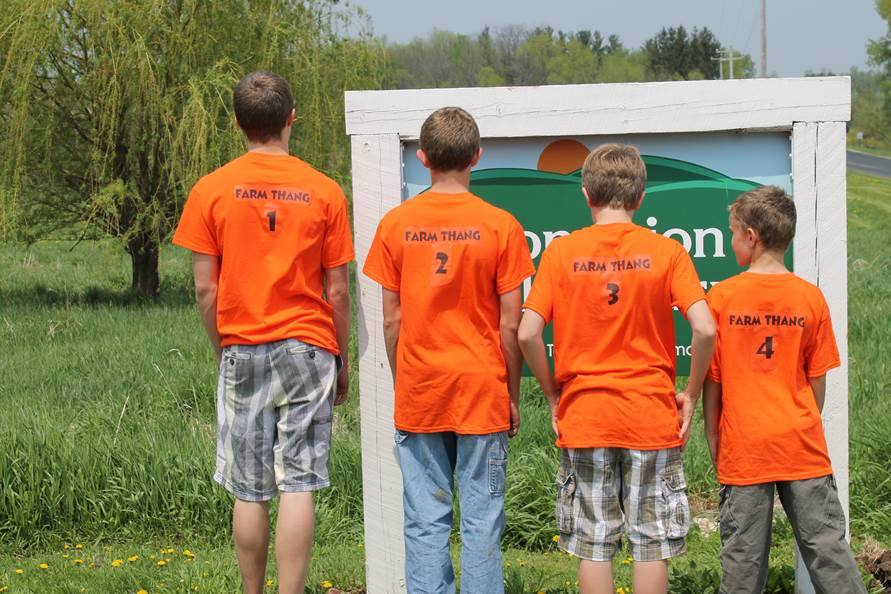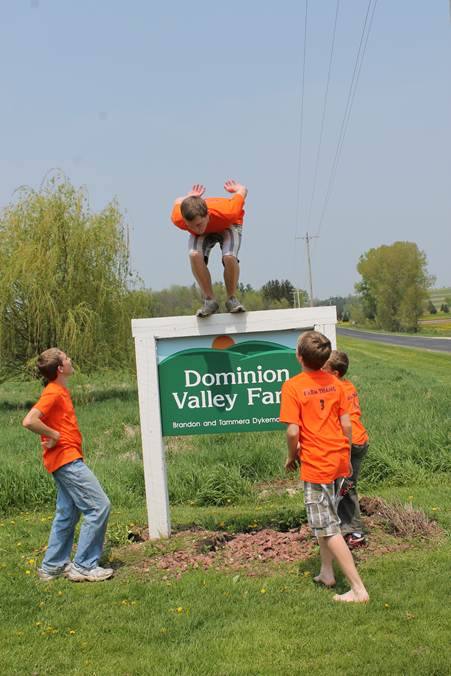 April 2013

Our first Large Black/Tamworth cross litter born on Dominion Valley Farm. We expect these cute little guys to be might tasty in about 6 months!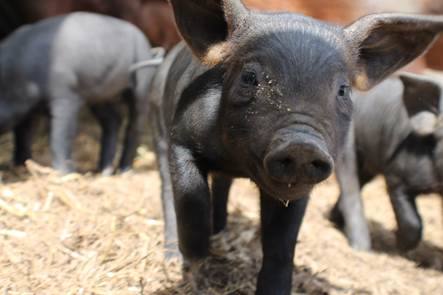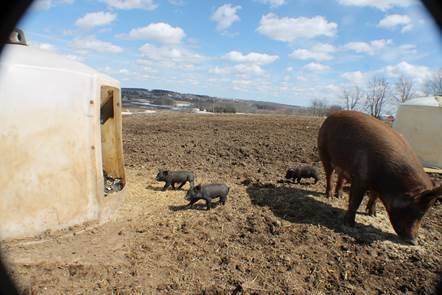 Janaury 20, 2013

Received this sweet E-mail from one of our customers today and just had to share...

Hi Tammera and fam~

Thinking of you this weekend even though I didn't make it to the market.... casual summer sausage sandwiches for lunch yesterday, savory breakfast sausage with eggs and toast this morning followed by 7-bean soup with ham hocks for lunch and looking forward to buffalo smoked chicken paninis (inspired by my lunch at cafe souerette last weekend) for dinner! We should be spokespeople for your farm :) All is delish, as usual. The ham hocks had great flavor and so much meat on them! Hope you had a great weekend!

Thanks for the good eats :)

A and J




September 16, 2012

Cafe Soeurette Dinner on the Farm

Chef Jodi and staff served us a fabulous 4-course dinner in the beautiful rollings hills outside of Kewaskum, Wisconsin, on this gorgeous Sabbath evening. There were a total of 91 guests who enjoyed the sunset, the bluegrass music, and the Galloway beef cattle in the background. Cafe Soeurette was recently nominated as one of the top 30 restaurant picks in the Milwaukee area!


Jodi and her staff hard at work. Yes, that's Caleb piping the delicious cream onto the toast that was topped with scrumptious duck comfit.



Brandon and Chef Jodi kicking up their heels.


Some of our wonderful Dominion Valley Farm customers enjoying the evening along with us!



August 2012

Farmers' Market Punch Cards

Our newest offering to our dedicated customers attending the farmers' markets - the Dominion Valley Farm Punch Cards! For each $20 that is spent, 1 punch is earned. When 5 punches are received, our customer receives a free pound of ground beef or a DVF canvas market bag. They have been a huge hit! We know our meats are pricier than the grocery stores (rightly so!), and we want our customers to know how much we truly appreciate their business. With our punch cards, we are hoping to help, in a small way, with their meat expenses and give back to them for their faithful shopping at Dominion Valley Farm.







July 27, 2012

Hinterland Erie Street Gastropub "Nose to Tail Dinner"

We had a fabulous 6-course dinner last night at Hinterland Erie Street Gastropub (Hinterland Restaurant). Chef Dan and Chef Paul completely outdid themselves!!! They started with a wonderful pasture-raised heritage hog, one of our Large Blacks, and turned it into an evening filled with delicacies to tease every one of our tastebuds. Not only were their culinary creations delectable, each course was paired with their own Hinterland brew. Here is the evening's menu...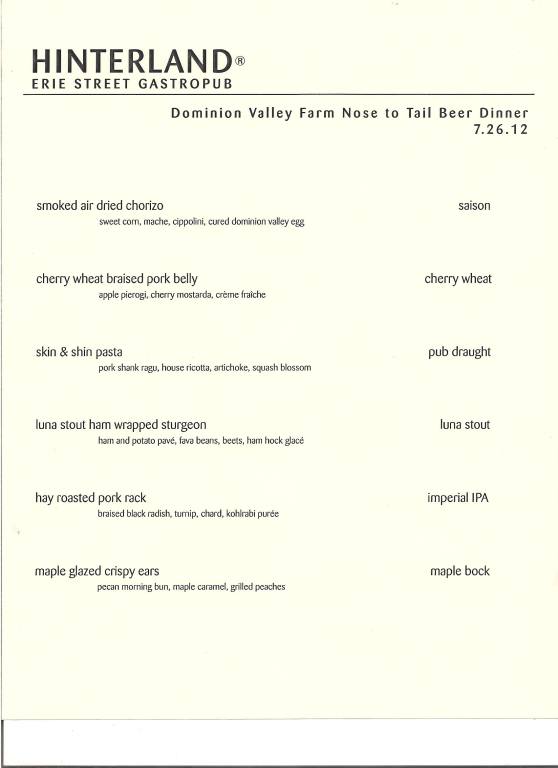 ...and the poster for the event...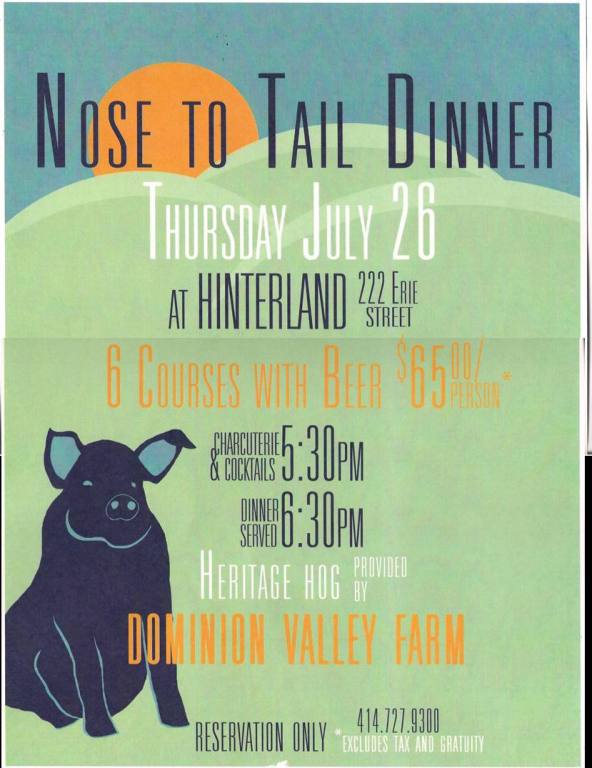 ...and now the fabulous 6 courses...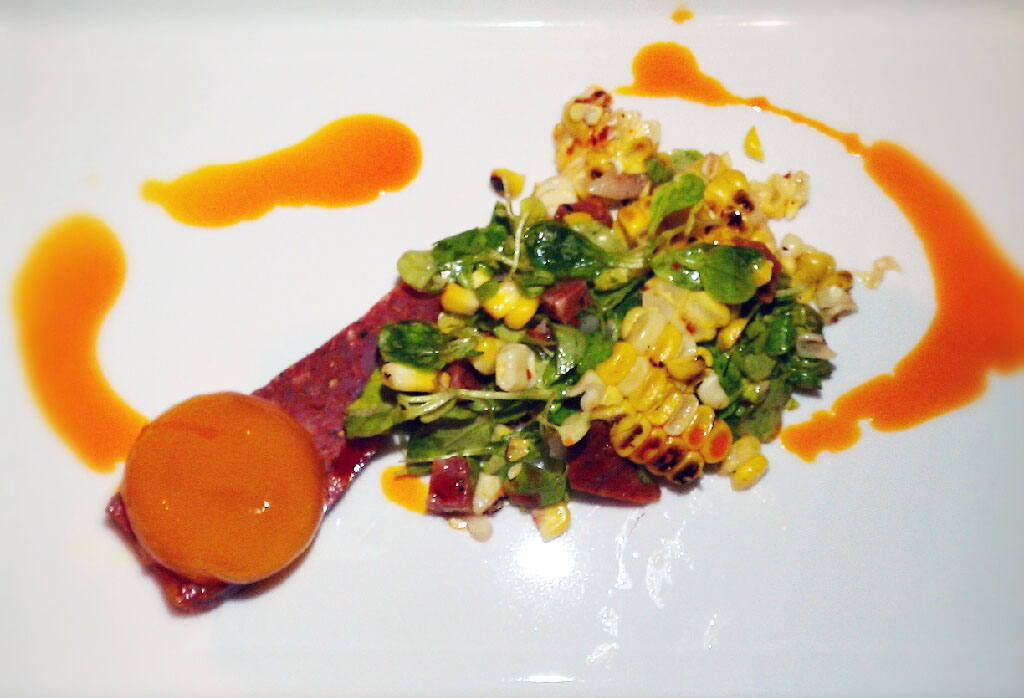 Smoked air dried chorizo, sweet corn, mache, cippolini,cured DVF egg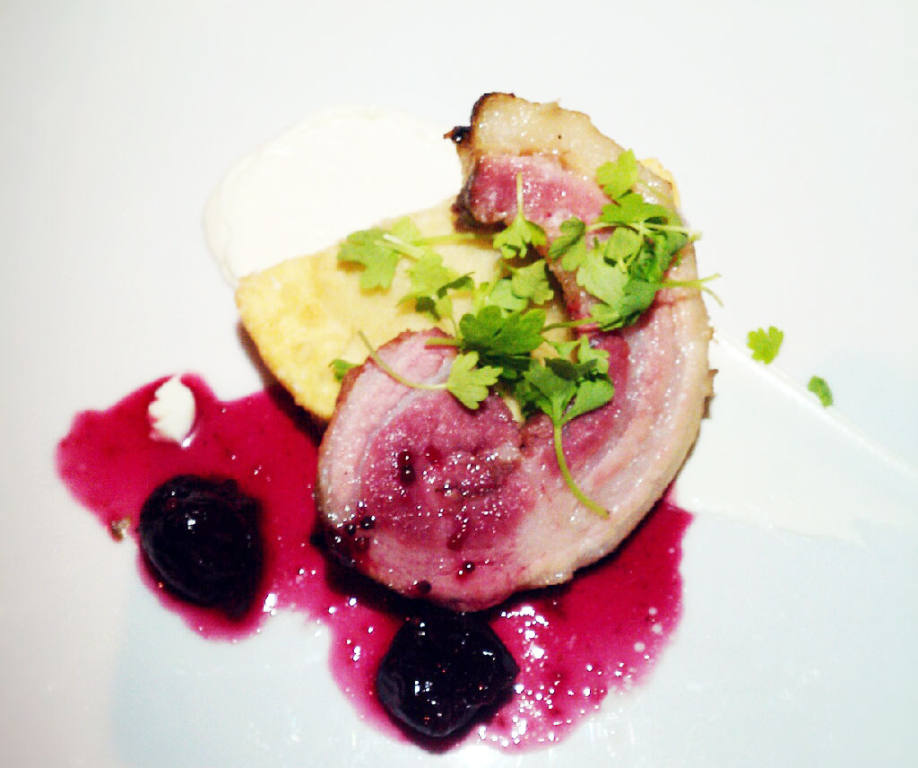 Cherry wheat braised pork belly, apple pierogi, cherry mostarda, creme fraiche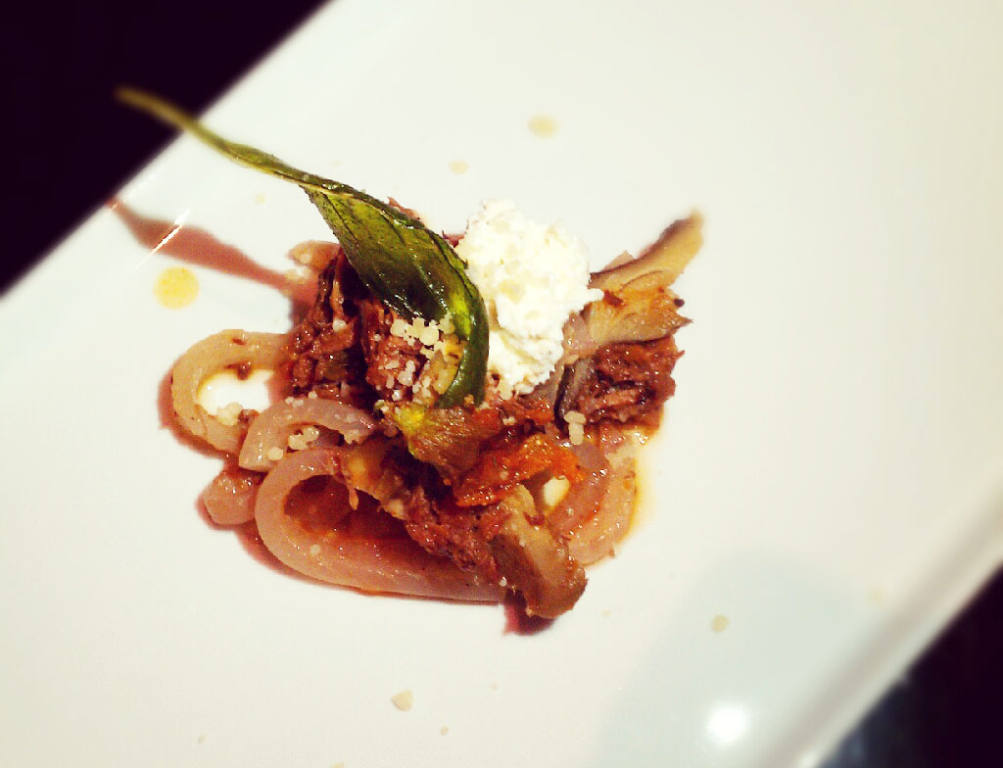 Skin & shin pasta, pork shank ragu, house ricotta, artichoke, squash blossom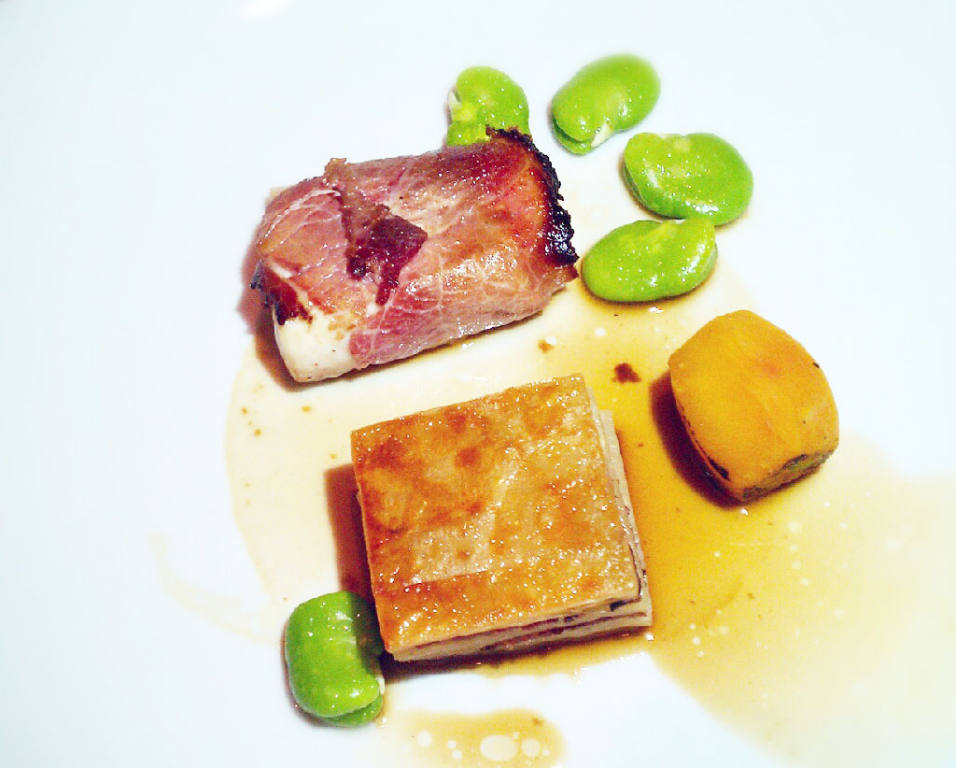 Luna stout ham wrapped sturgeon, ham and potato pave, fava beans, beets, ham hock glace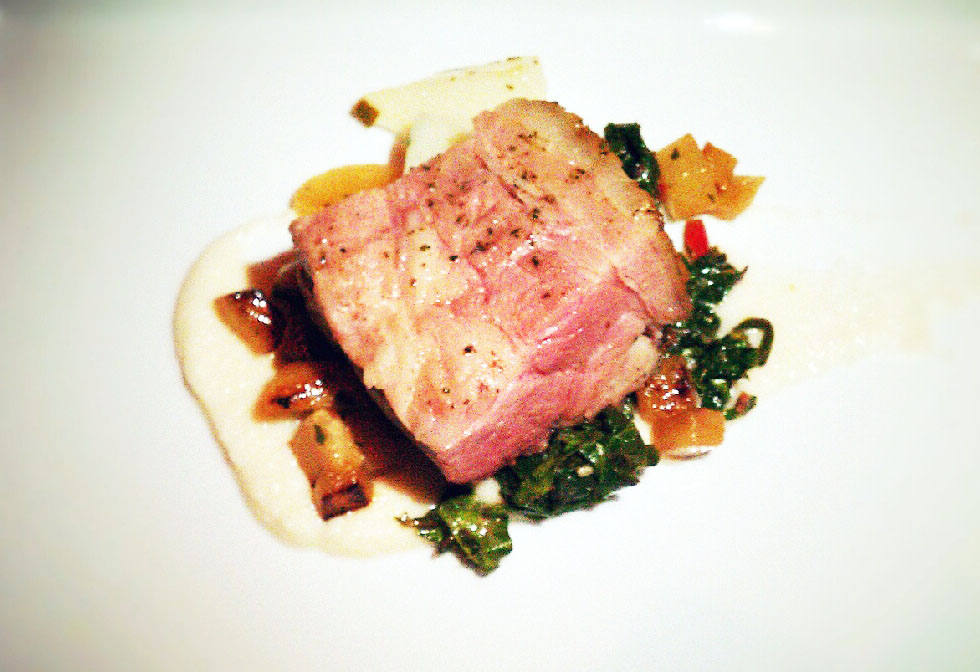 Hay roasted pork rack, braised black radish, turnip, chard, kohlrabi puree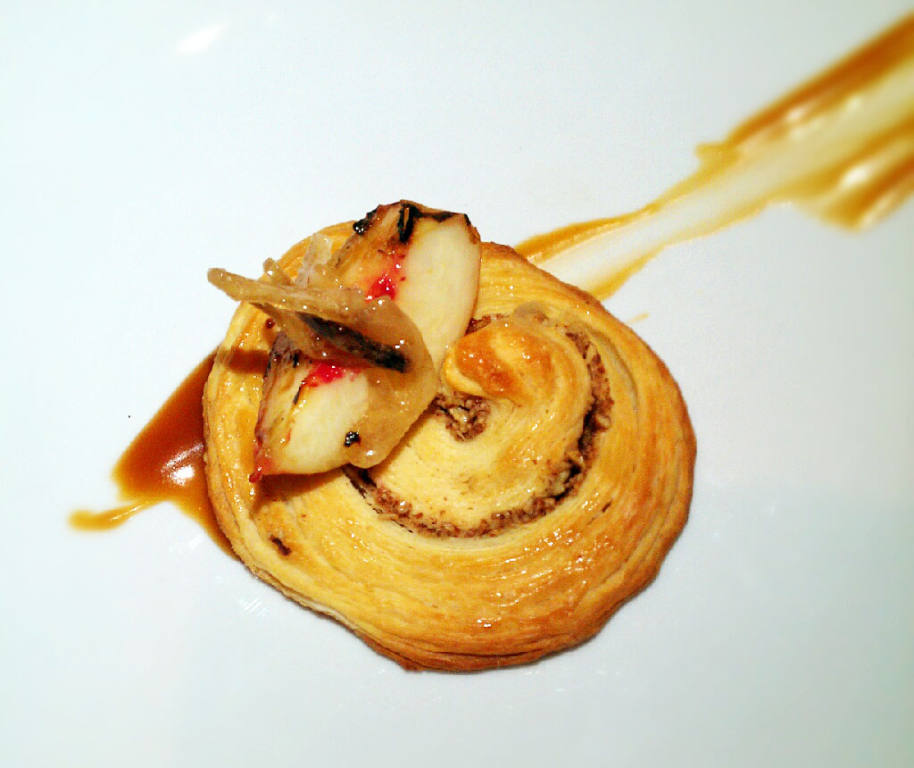 Maple glazed crispy ears, pecan morning bun, maple caramel, grilled peaches



June 27, 2012

Twilight Pasture Walk

On Wednesday evening, June 27th, a Twilight Pasture walk was sponsored by Dominion Valley Farm and Town & Country RC&D with funds from the Grazing Lands Conservation Initiative Program (GLCI) and the Wisconsin Department of Agriculture, Trade and Consumer Protection.

This informative pasture walk focused on the following topics:

- Planning strategies used to fully utilize 100% of a small acreage farm land base.
- Brandon's multi-species grazing strategies and rotations.
- Tammera's direct marketing techniques and customer relations.

We had a 90-degree evening for the pasture walk, but the strong breeze was a welcomed addition. A total of 50 guests were in attendance. They split into two groups and toured the pastures, talking with both Brandon and Tammera, learning their different specialties in their pasture farming business.

As three of the boys were either at work or visiting grandparents, Micah remained at home to help with the photography for the evening...


Kirsten Jursek, Grazing Education Specialist; her daughter Jessica; and Mike Gehl, Rotational Grazing Technician. We at Dominion Valley Farm didn't have to do much planning, as these wonderful individuals handled all of the reservations, brought their table to set up for name tags and check-in, plus brought coolers full of lemonade and water bottles.



Tammera's group inspecting the Tamworth hogs and the 15 newborn piglets.



Brandon and group overlooking the steer pasture.



Tammera discussing and answering questions about marketing.



Lots more marketing questions...



Brandon sharing his passion with new farmers.



Our cutest attendee of the evening. (-;


June 15, 2012

**NEW** Grilling Chickens

Here is our latest way of processing chickens...the "Grilling Chicken." The backbone has been cut out for you so that the bird lays flat on the grill. Ohhhh, does it taste fabulous!!! Brandon smothered it with my home-made Zippy BBQ Sauce. I probably should post this recipe in the Recipes section of our website (July 7th addendum - now added to our website!)...or you can just purchase our cookbook called "Chicken Solamente" and find it in there!



Started the Grilling Chicken on the skin side, , very low grill, then flipped over after about 20 minutes. Continued cooking another 30-35 minutes.


Slathering with my Zippy BBQ Sauce.


Our dinner...ready to devour!!!


May 5, 2012

Farm Open House

What an awesome day everyone had on the farm today! We had over 130 customers attend the Dominion Valley Farm Open House from 9 a.m. until noon. We had four wonderful "tour guides" (Caleb, Alek, Micah and Gabriel) who gave tours around the farm. Our customers who braved the damp and breezy morning got to see the bred Tamworth pigs on pasture, the curious steers, plus toured the brooder and got to hold week-old turkeys and the baby chicks. They then ventured into our Pick-Up Joint for hot coffee, beef/pork Honey-Garlic Meatballs, plus our Fiesta Chicken served on chips (happy Cinco de Mayo!). There were some wonderful 10% off specials on chicken and brats.

Here are a few shots from the morning...



Tour guide Alek showing the pen with the mama Banty chicken and her 8 babies.



Getting ready to enter the brooder and see the hundreds of baby turkeys, Cornish Cross chicks and Bronze Ranger chicks.


Lydia holding baby chick.



Customers viewing the Galloway steers from a safe distance.



Emily trying to rustle up the mama Banty to see the chicks that were keeping warm underneath her feathers.



Eli and Emily checking out the bottomless chicken pen.



April 21, 2012

Well, today is the first day of no farmers' markets for Dominion Valley Farm for the past 10-1/2 months! Boo-hoo. We are so blessed by the wonderful customers who support us at the markets by making purchases from our stand. I am sitting here at my computer wondering what I will do with my Saturdays for the next 6 weeks before the West Bend market starts in June. Hmmm...I suppose I could clean the house and do some yard work. That just seems sooo boring compared to the excitement of talking with our customers every week, sharing recipes with them, hearing their cooking success stories. I guess I'll just have to deal with the clean house and tidy yard for another month before the real fun begins again!

For our customers on our mailing list, watch your in-box for our spring newsletter, hopefully arriving in a few weeks.


January 1, 2012

Happy New Year!!! I just finished a big kitchen clean-up project, having started roasting a 28-lb. turkey earlier in the day. We enjoyed a delicious family dinner of Dominion Valley Farm turkey, a GIGANTIC one, stuffing and all of the other trimmings. What will I fit this huge turkey into?, I thought. Wala, my Nesco insert worked beautifully!!! So...after dinner and the normal cleanup, Micah and I stood at the counter and "picked turkey." We picked every bit of meat off of that 28-lb. bird. I would guess we only ate a couple of pounds for dinner, so this is what we did with the rest of it:

- 4 cups diced turkey put into a Ziploc freezer bag for a future meal of double-batch Turkey Enchiladas.
- About 1 lb. set aside in a baggie for Micah to enjoy cold turkey sandwiches all week for his school lunches.
- A full platter of sliced turkey breast set in the fridge for sandwiches the next couple of days while the boys are still home from school.
- Drippings from the turkey made into 8 cups of gravy.
- 2 cups of gravy put into a freezer bag and frozen for future chicken and gravy sandwiches.
- The remaining 6 cups of gravy mixed with the remaining turkey (at least 12 cups of turkey!) for Turkey & Gravy sandwiches on buns...one meal for dinner, the rest for Brandon and I for lunches this week while the boys are at school.
- One batch of Turkey & Gravy frozen for Grandpa and Grandma Noble for a meal.
- Turkey carcass, all bones and skin, now in the Nesco with a few cups of water, cooking at about 200 degrees for the whole night, making a fabulous broth for my famous Creamy Turkey Soup! I'm thinking this will make about 2 gallons of soup, plenty for a family meal, lunches for a couple of days, plus a half gallon to freeze for Grandpa and Grandma, another half gallon to give away or to freeze for a future meal.

Okay, I admit this 28-lb. turkey was quite expensive, would cost a customer just over $100. Now look at the breakdown - we had a delicious New Year's Day meal for our family PLUS (not counting Micah's school lunches) we now have 11 more meals!!! Doing the math, this huge turkey has provided us with so much food for about $9 per meal. You can't beat that for a family of 6!


December 2011

Another successful turkey season is behind us! We love to hear comments; here are a few that we received:

We were blown away by how yummy our Turkey was. We will definitely order more. Our kids were tickled to see your chickens running around in the yard. It was a great experience from start to finish. I hope your family had a lovely Thanksgiving. Sincerely, H.B.

I wanted to let you know how much my family enjoyed our turkey this year. It was incredible! It was so juicy, and everyone raved about it!! Please put us down for next year! Believe it or not, most of that 31#s of bird is already gone. I have just a tiny bit left. I hope you all have a Blessed Christmas. Thank you again! T.N.

Thank you for such a spectacular turkey. It was the best we've ever had! It was very meaningful to know you, our farmers, and to know what a good life you provided these birds. Happy thanksgiving! M.S.

From the previous customer, she also sent us a picture of her beautiful roasted turkey!...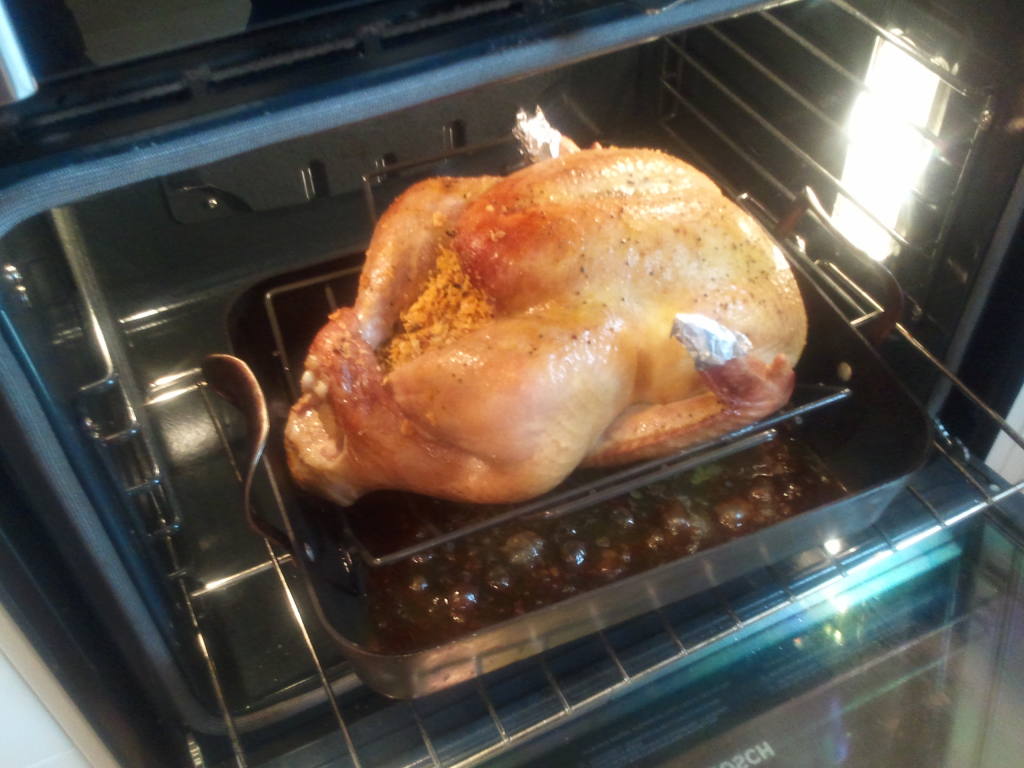 November 2011

It's been a busy summer...what else can I say?!?

Here is a fantastic article, although a few years old, that sums up quite well everything we do here on the farm...

Agri-View article

Thanks, Agri-View, for the interview and free marketing. (:



July 2011

We had a lovely visitor to our farm a few weeks ago! She is a fairly new customer, and she wanted to come out to see where and how her meats were raised. She brought her camera and took oodles of pictures, which she then posted on her blog site. Just this week, during the horrific heat wave Wisconsin experienced, our new friend came to visit again, this time bringing her little guys, plus she also brought me these beautiful pictures that she took, each printed so nicely as an 8 x 10 photo for us to keep. I just had to share...thanks, Leone!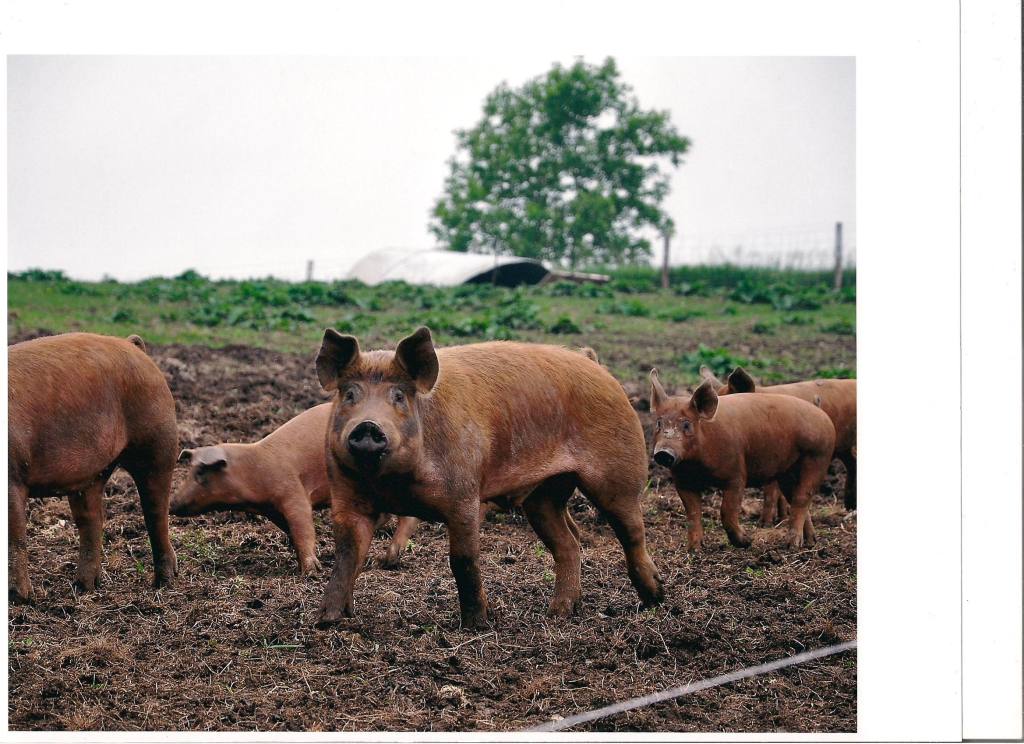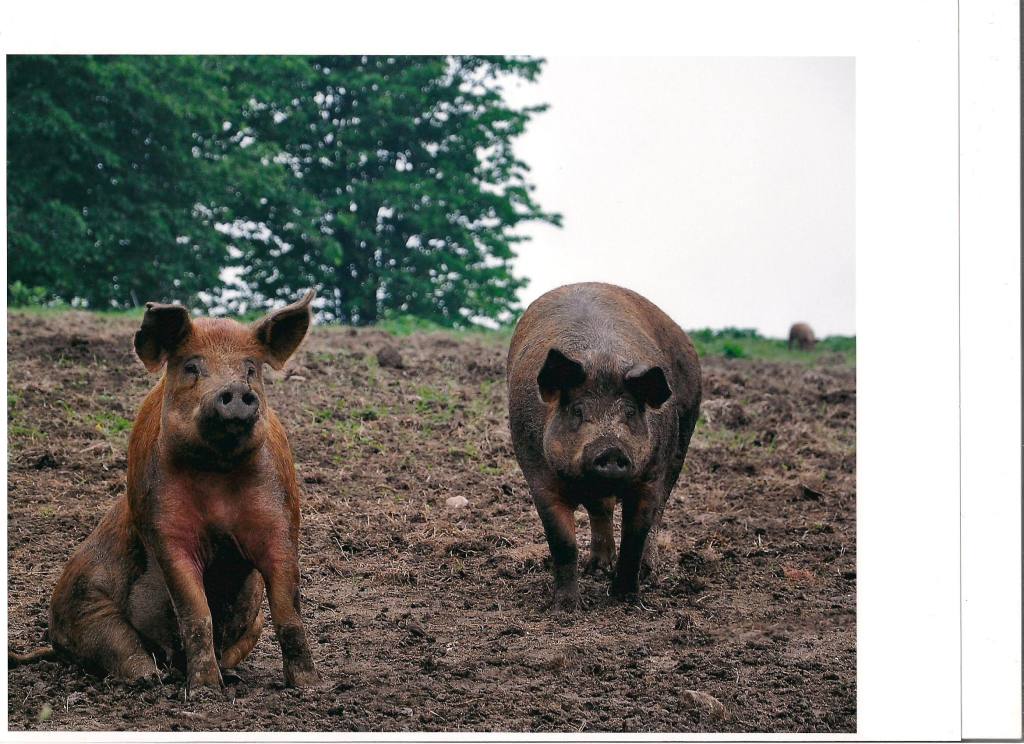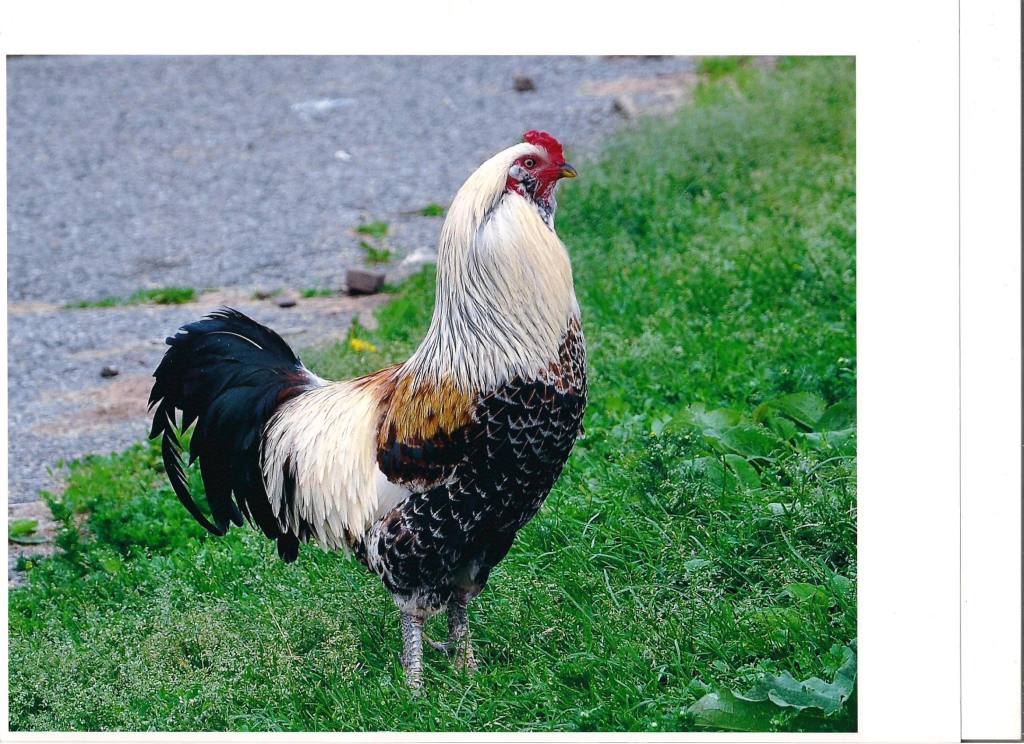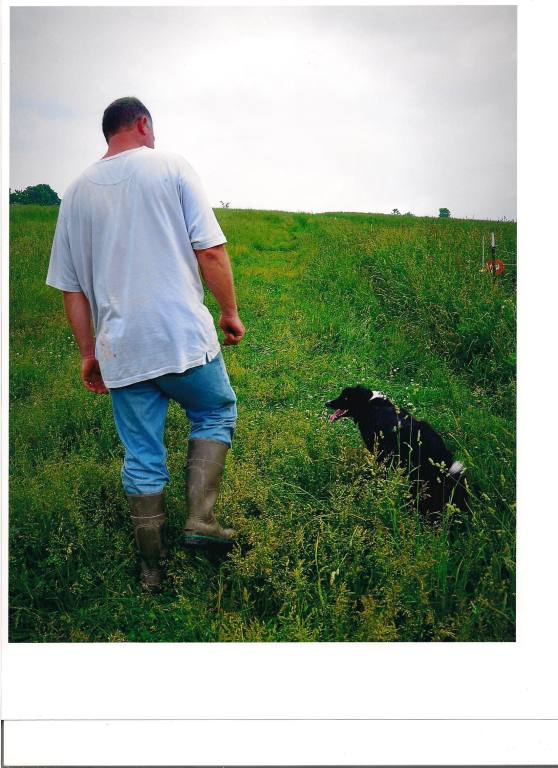 June 2011

Our new sign...finally! This is at the entrance of our Pick-Up Joint - you know, the place where you "pick up chicks." Okay, bad joke, but at least it's catchy. (:





April 13, 2011

The last Dykema to be "groomed" for the farmers' market! Gabriel, on his good days, does an excellent job at the market. He is our natural talker, so we're hoping to teach him to funnel this habit into explaining our meats and answering customers' questions. Plus, he has the cute factor to help makes sales! (:


Of course, we cannot forget Alek, who is a great helper at the markets also!




April 5, 2011

Hey, where have we been the last few months??? I guess there was nothing blog-worthy... We have kept busy with the Milwaukee County Winter Farmers' Market every Saturday, and, of course, the steers and pigs on pasture (well, on snow most of the winter) still need their food and water. The whole water situation keeps Brandon busy for many, many hours a week since the pigs throughout the pastures don't have an underground water system; thus, Brandon is busy hauling water. Would you believe that Dominion Valley Farm has over 1 mile of water lines running to the pastures throughout the farm?!?

An exciting week at Dominion Valley Farm indeed...NOT!!! Sadly, our 120-year-old basement flooded in the wee hours of Monday morning. We received 2-3/4 inches of rain, falling at a rate of 7 inches per hour! This old basement is nowhere near waterproof, and with that amount of water falling from the sky in such a short time period, the 18 inches of water in our basement was understandable...but certainly a rude awakening! Thankfully, we were spared from the total disaster one might expect. The inch of mud that remained on the basement floor after the water receded was vacuumed up by my diligent husband, hours of Shop Vac-ing, dumping gallons of mud, vacuuming, dumping, vacuuming, dumping...you get the picture!

The only basement fatalities were the clothes dryer motor, which is now on order, and our furnace control panel, which the wonderful furnace guy was able to order and install within 24 hours. Even my stand-up freezer took a beating but still kept freezing (ha ha). Here is a picture with the frozen mud on the bottom shelf. The muddy water seeped into the freezer as it was reaching its 18-inch mark, although the door remained closed and the foods stayed frozen. When we finally got into the basement after the disaster, all I found was frozen mud in the freezer!


We are very thankful for the protection of our home and family the Lord has provided to us! The mess took a while to clean up, but it could have been soooo much worse!!!


December 9, 2010

Here is a cute family picture I found from 2004. Just wanted to share... (: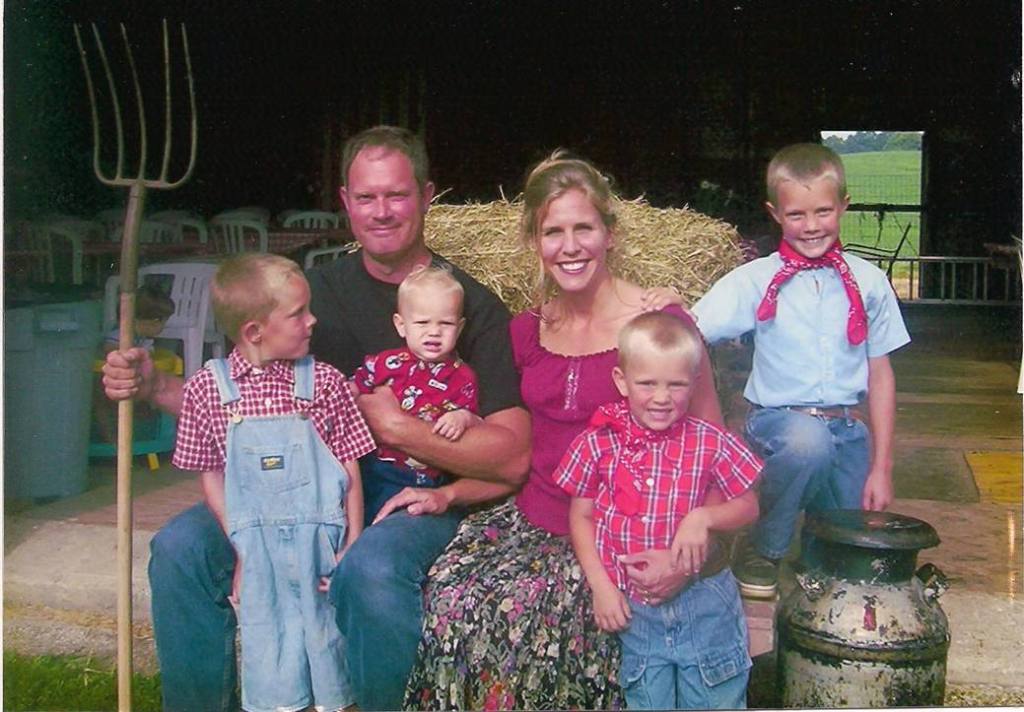 December 1, 2010

We love to hear feedback from our customers--both the good and even the not-so-good. Sadly, one of our customers had a poor experience with their Thanksgiving turkey, a foul smell (no, not a fowl smell!) when they opened the bag on the morning of preparation. After the fact, we learned they were cooking their turkey the day after Thanksgiving but had kept it refrigerated. In our "Turkey Tips" we recommend customers keep their turkey refrigerated until Thanksgiving Day, but if they plan to make it any time after Thanksgiving, it needs to be frozen immediately when picked up, then allowed a few days of refrigeration to thaw before the big day of preparation. Even that ONE day reminded us to REMIND OUR CUSTOMERS that if the turkey is being prepared after Thanksgiving (even ONE day after), it must be frozen for a few days.

Thankfully, after raising a few hundred turkeys this year, the above example was the only unpleasant story we heard.

On a happy note, we received many, many E-mails with glowing success stories surrounding the Thanksgiving dinner. We'd like to share a couple with you:

From L.B. in Merton...

My husband and I bought our Thanksgiving turkey this year from your farm and I felt that I needed to tell you not only how wonderful our bird tasted but how wonderful the whole experience was for our family. The drive out to your farm the Saturday before Thanksgiving was absolutely gorgeous and a welcome change of pace from our busy weekly schedules. Upon arrival at your farm we were welcomed by your kind dog, spunky chickens, and a few pigs down the driveway. I was literally giddy to see how HUGE our turkey was! I'm so used to the pre-wrapped frozen 11-pounders from the grocery store that are yellowish in color due to the chemicals/preservatives, etc. Everyone at the farm was so helpful and friendly and we felt welcome.

My father-in-law and I had great fun removing the neck and organs from our turkey and trying to find a roasting pan big enough to fit Henry in (yes, we named the turkey)....How sad that so many people, young and old, are so completely disconected from their food, where it comes from and how it grows/is nurtured. Driving out to your farm to collect our bird, to see where and how it was raised, and to bump into other people doing the same was refreshing and gave me hope for the future.

Thank you for all you do! Thank you for being a small family farm and nurturing the earth as God intended.


From B.K. in Hartford...


...want to let you know how excellent and tasty our turkey was, 
everyone said it was the best they ever had, so no more frozen 
birds for us.

  

It made our thanksgiving special…Thank you again 
and we will be back for more….also the little boys did a great job 
carrying out our bird and giving us information.


November 20, 2010

FRESH TURKEY PICK-UP DAY!!!

What a wonderfully busy day here at the farm! We have been working towards this day for months and months, striving to bring our customers the most delicious turkeys to grace their Thanksgiving tables. We had almost 100 customers arriving within a 3-hour timeperiod to pick up their fresh birds. Thankfully, we had the help of our dear friends, Steve and Vivianne, and Tammera's mom Jean, who drove two hours each way just to help!, plus our 4 wonderfully helpful (sometimes!) children to assist with the busy morning.

We have to include a picture of our faithful customer Joan who eagerly snatched up our 37-lb. turkey--the largest we have had in 10 years of raising turkeys! Alek proudly manhandles this mammoth turkey...





October 11, 2010

Meats, meats and more meats...

What a crazy weekend here at the farm!!! Almost ALL of our meats were recently processed, and we had an over-abundance. So much so that we ran out of freezer room. We had chickens, BIG chickens, Muscovy ducks, pork and beef processed and ready to be picked up by our customers. Due to the freezer space issue, we needed to rent a freezer semi trailer to hold the meats until customers could pick up. Our pick-up schedule ran from Friday through Sunday. Pick-ups on Sunday are a big no-no in our book, as we like to keep this as a day of rest and no business, but we were desperate to get these meats moved and into the hands of customers (trailer is being picked up on Monday). Thankfully, many people were able to fit it into their schedules to come to the farm this beautiful fall weekend, and we now once again have freezer space - YAY!!!

Here are a couple of pictures...





October 1, 2010

Unfortunately, the carrots were ready for harvesting and no children around to help. Schooling beckons, so I had to figure out how I would tackle the HUGE job of washing, cutting, blanching, and packing hundreds of carrots all by myself. After half an hour of washing and barely making a dent, I realized some drastic measures needed to be taken in order to complete the job before midnight. WALA - a brilliant idea hit me...the washing machine! Yup, I dumped the load of rinsed carrots into the washing machine and set it to wash. Thirty minutes later I had the cleanest carrots I've ever seen.

September 29, 2010

It's been a long time coming (5 years, in fact!), but we finally have a new family picture...notice it's next to our NEW sign!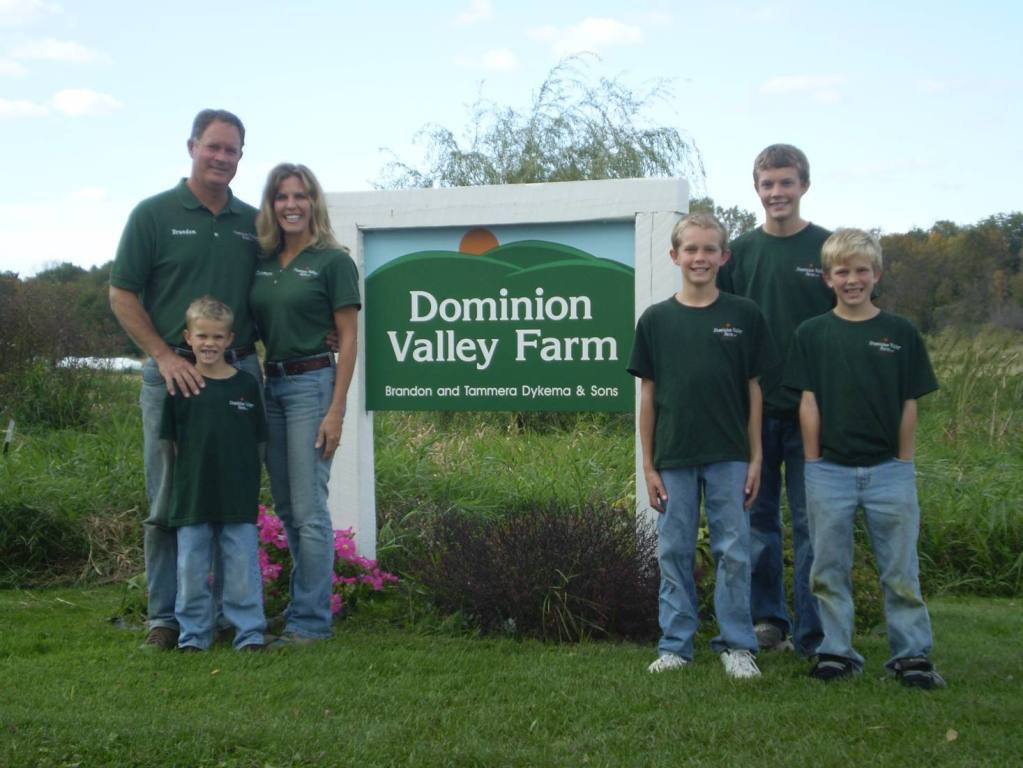 September 3, 2010

Ground turkey and turkey parts (breasts, thighs, legs, and wings) have flown into Dominion Valley Farm! We will have these individuals items at our Pick-Up Joint here at the farm and at the farmers' markets. Sorry, we can't reserve these individual items, but you are welcome to come and browse our freezers.



August 2010

We always welcome comments from our customers, both positive and not so positive (those latter comments help us to improve our products and services for you!). Here is a wonderful letter we recently received from a customer in the Sheboygan area...

Dear Dominion Valley Farm Friends,

Here I am with my great supply of absolutely healthy, delicious meat.

I try to think of all you have done to make this possible, but I don't begin to know all that is involved from your green pastures to the innumerable cuts of completely healthy, always delicious meat.

But at each dinner I will say "Thank you so much all of you at Dominion Valley Farm."

Sincerely,
Fran







August 28, 2010 (by Tammera)

DINNER ON THE FARM
Hosted by Chef Jodi Janisse from Cafe Soeurette, West Bend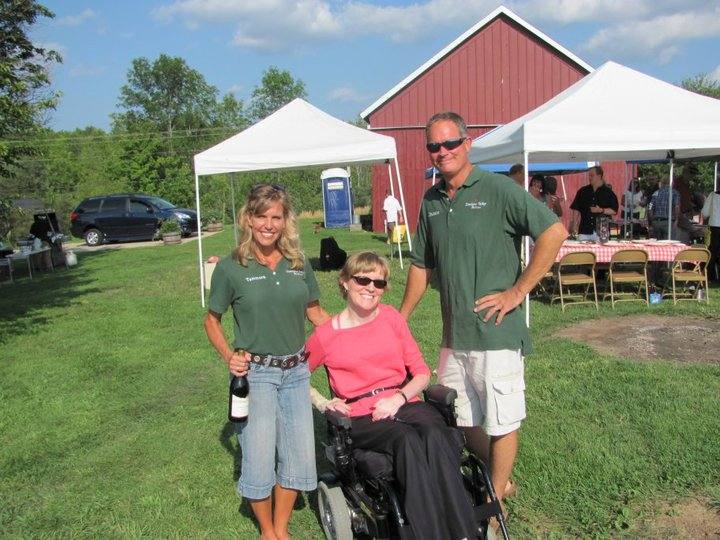 What a great evening we had last Sunday at Mueller's Mulberry Meadow! Chef Jodi really outdid herself with a fabulous 4-course dinner, served alongside the beautiful gardens of Ron and Elizabeth Mueller's organic veggie farm. Plus, the weather couldn't have been more perfect!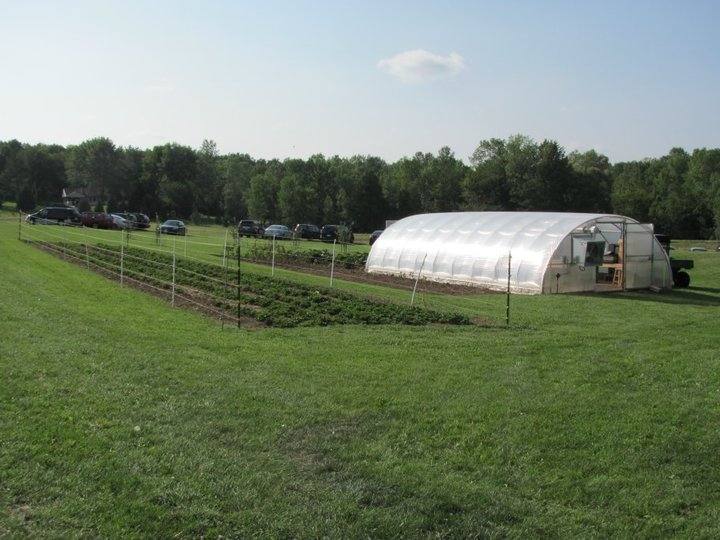 Dominion Valley Farm's Tamworth pork loin stuffed with garlic was the featured entree, and Chef Jodi did a fantastic job preparing the meat for all 40 guests.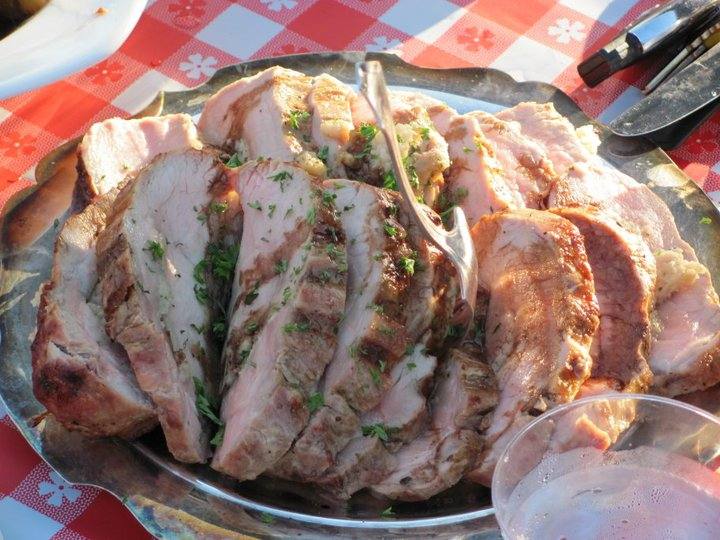 The evening was accompanied by the Roller Mill's String Band and finished off with a wee bit of square dancing. We don't get to see Brandon often with his dance shoes on! (-: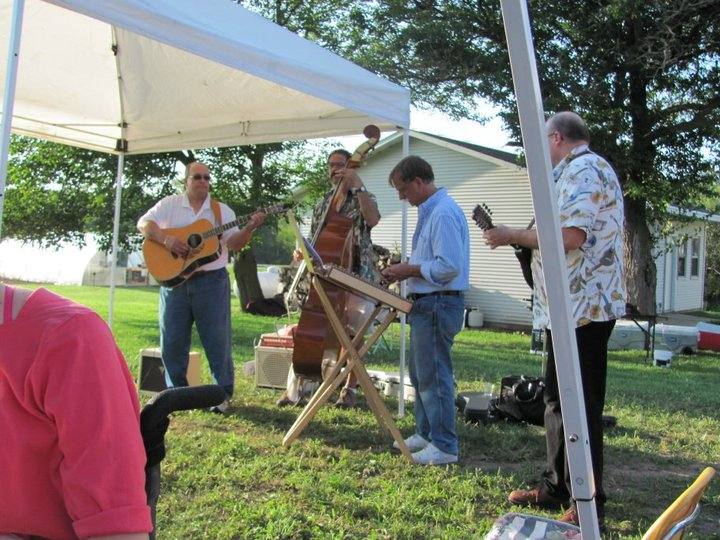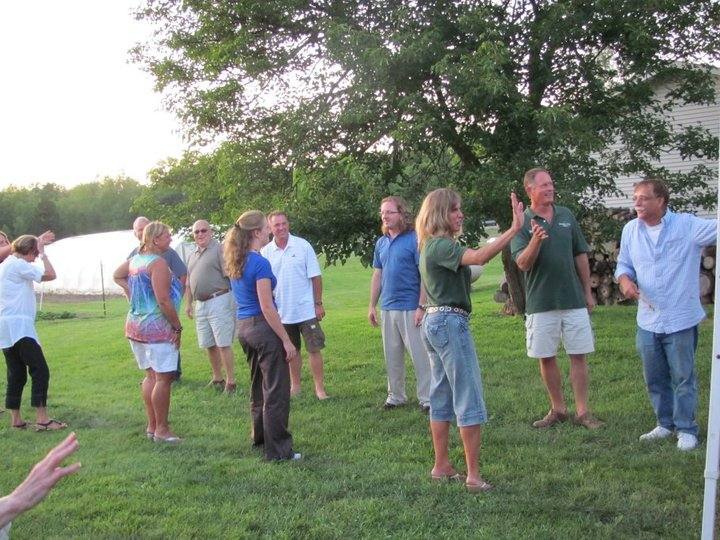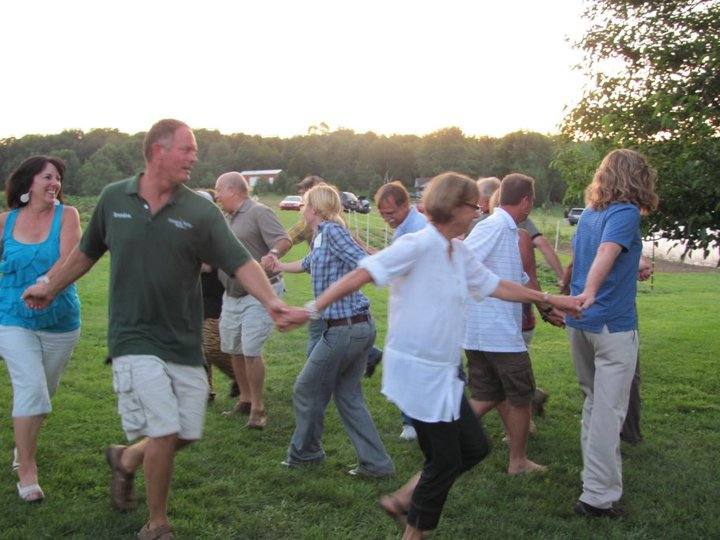 August 23, 2010 (by Tammera)


I have to fill ya'll in on our worst but most blessed day of the year here on the farm. I will warn you that you'll need quite a few minutes to muddle through this story…

Last week began like any other, but then on Tuesday Brandon came down with a fever. It got over 103 that day but we were able to keep it in the 100-101 range the rest of the week. Finally, by Friday, for the first time, he was able to get up off the couch and go outside for chores. Thankfully, Alek, with Micah as his helper, did 100% of the chores for 3 full days. Blessing #1, the boys were home from school and were able to help out.

So, now we're to Friday. As this was Brandon's first day up and about, he decided to go to our big walk-in freezer, which we keep in a friend's building 4 miles down the road. When he got there, he discovered that the cooling components were completely blocked by ice because the defrosting mechanism had stopped working. The temperature was only at 20 degrees, so the thousands of dollars of meats we had in there were still completely frozen, but the temperature is supposed to be between 0 and -5 degrees. Blessing #2, he discovered the problem soon enough so that he could get it repaired before the meats thawed and spoiled. So, on this 85-degree day, he needed to figure out how in the world he would get all of the boxes out of the freezer in his still weakened state after the long fever, where to put the meats so he could repair the freezer, etc.

Brandon came home in a huff, not sure what he should do. Me, being in a wee bit calmer mood, looked outside and thankfully saw that we still had our butcher's refrigerated trailer from fresh chicken pick-up day the weekend before. Brandon, Caleb and Micah hooked up the trailer and hauled it over to the freezer area and plugged it in. The two boys were able to move the boxes of meats into the cool trailer while Brandon was on the phone with our heating/cooling dude, getting instructions on how to repair the freezer. This all started about 2 p.m. Friday afternoon.

Meanwhile, I'm home with the other two boys. Alek was left behind so he could do all of the afternoon chores because Brandon knew it would take a few hours to handle the freezer situation. I had been working at my desk, watching the radar on the computer because some severe storms were rolling in. I had been on the phone regularly with Brandon to get updates and told him about the storms. He was frustrated that he had left his tractor, with the feed grinder attached to it, out of the shed. I told him I would keep an eye on the radar and call him to come home when the storms got closer. Alek and Gabriel were finishing up chores and I had the great idea of moving the tractor and grinder into the shed myself. Typically, it's backed in, but since I've only driven the tractor once, and never with the grinder attached, I decided to back the thing up the driveway and go into the shed head first. I won't bore you with the details of needing Alek to remind me how to start the tractor, where the proper pedals were, etc., but, needless to say, I was very glad Alek was there to help! I got everything backed up, wasn't a very pretty site but I did it (pat pat). I drove it beautifully into the shed with a whole 6 inches of clearance on the side without running into anything. (-: Alek was in the front directing me so I would know when to stop. As a side note…our brooder is full of baby chicks and ducks right now so Brandon has a batch of 400 baby chickens in the front of the shed, right in front of where I'll be parking the tractor. This is why Alek was so laborious in making sure I got it just right. We realized that since I was parking the tractor in head first, the back end of the grinder was sticking out of the doorway and we wouldn't be able to get it closed unless I could get in even farther. Alek suggested I lift the bucket of the tractor up and over the baby chicken pen so I could get in a few more feet – brilliant little boy I have! All went well and we closed up the shed before the rains hit. Blessing #3, we got the tractor in safely!

About this time the wind is really picking up and whipping stuff around. I yelled for Gabriel to get into the house while sending Alek to close up the brooder. I had to quickly get some big barrels that belong to our butcher put into the shed, as these were taken out of the refrigerated trailer when the other guys left. As I'm man-handling these barrels, one of our customers shows up to pick up his meat. I was able to assist him just as the downpour starts. I race to the house with Alek just a minute behind me. We close the door to keep the torrential winds and rain out, and as I'm looking out the window suddenly 2 huge tree branches came down. I yelled to the boys to get to the basement. We stayed down there for about 30 seconds when I couldn't take the suspense any longer (you know me!), so I went upstairs to check out what was going on outside. In that short period of time, the horrible winds had settled. Blessing #4, our house did not blow away!

I'm wondering now how the guys at the freezer weathered the storm and if they were all okay. A few minutes later, the rains died down so I sent Alek out to the field to assess the damage. We could see from our kitchen that one of the pig's houses had blown over. Alek was gone for a short period of time, only to return with the news that our big turkey hoop pen at the top of the field had blown approx. 80-100 feet up and off of the turkeys, which were now standing in the field wondering where in the world their house went. Remind you of Wizard of Oz? Gabriel, Alek and I hopped on the 5-wheeler to go into the field to see what we could do. The turkey house had flown AT LEAST 100 feet and was now atop our electric fence. Alek informed me what we could touch to get it off the fence so we pulled on a rope and got it onto level ground. This thing is quite a bit heavier than it looks though, being about 10 x 20 feet in size. After a few futile attempts to pull it even a couple of feet, we decided that we would need to pull it with the 5-wheeler. Alek took off to get a chain while Gabriel and I waited in the rain, staring at the flock of turkeys, who were still wondering where their house went. Skipping ahead a few minutes…after hooking the chain to the 5-wheeler and trying a few pulls, we realized this just wasn't going to cut it. Alek said I needed to get the tractor up there. Yeah...right! We decided that this was just something that would have to wait until Brandon got home and could handle the situation himself. Blessing #5, the turkeys didn't fly away and all seemed to be accounted for.

Okay, we're now at about 6 p.m., still no sign of the guys from the freezer but said they hoped to be home shortly. Dinner was done cooking so the three of us started eating. The rains were coming down hard now while we were having dinner. This is when someone drove into our driveway, came to the door and proceeded to tell us that we had a steer out and it was by the road. Alek and I yanked on our wet work boots once again and raced down the road to get the steer back into the pasture. Cimarron (our Border Collie) was a sweetie, beat us over there and scared the steer back in through the fence. Okay, that task was completed without much hassle. By now we're completely drenched…I'm feeling refreshed by the cool rains but Alek is starting to shiver (duh, I should have taken the hint).

So, that's the end of my farm problems while Brandon was gone, or so I thought. He and the other boys arrived home about 6:30 and had a quick dinner. Alek proudly announced to Brandon that "Mom had put the tractor away by herself!" Brandon was pretty proud of me (pat, pat) but asked Alek how I was able to back it in properly. Alek announced that I drove it in head first. Hmmm, Brandon wondered how I was able to get both the tractor and grinder to fit because usually he backs them in, unhitches the grinder, then backs the tractor even closer to the grinder. Okay, too much information, I know, but then Alek explained that we just raised the bucket up over the chicken pen to get it to fit. This is when Brandon jumped up from dinner and raced out to the shed. Hmmm, I realized something was amiss. I went outside to find and learn that when the tractor is shut off, the hydraulics slowly lower the bucket back to the ground. Oops! Yes, we had a pile of dead chickies under the bucket, but the most concerning was the broken contraption holding the heat lamps and the non-broken heat lamp that was still lit, sitting in the pile of shavings. Blessing #6, our shed did not burn down!

I know this story is going on and on, so to wrap it up, Alek got the baby chicken pen rebuilt, new lamps, feeders and waterers placed in there for them. He came inside, dried off and bundled in a blanket. When I went to kiss him, I noticed he felt quite warm. Took his temperature and he had a 102-degree fever! Brandon, Caleb and Micah had taken the tractor to the field, got the turkey pen back into place and easily herded the dumfounded turkeys into their home. YEAH!!! All has turned out beautifully. With the many problems we experienced that Friday afternoon/evening, the Lord took us through all of them and truly very little was lost or damaged that could not be replaced.

Early the next morning when I was at the farmers' market, Brandon got a call from our butcher. Their power had gone out the night before and all of their walk-in freezers were up to 30 degrees, with tons of our pork inside! They needed the refrigerated trailer brought back immediately, which Brandon raced over to them, plus he was able to pick up all of our pork, which thankfully was still frozen, and brought it back to our walk-in freezer, which thankfully was now nicely below 0 degrees. Oh, so many blessings to be thankful for!!! So, if you ever hear Brandon or I grumbling about problems on the farm, remind us of the Friday that everything that could go wrong did and that we survived through it. (: